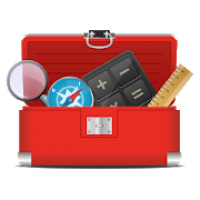 Smart Tools - Utilities PRO
Rating: 5.00 (Votes: 1)
Ad-free PRO version of 40 smart carpenter and measure tools and utilities.
Smart Tools is a handy kit of tools with 40 smart carpenter and measure tools and utilities. Use the device's in-built sensors in all in one toolbox app, handy like a swiss army knife.

Carpenter tools kit:

Ruler;
Bubble level: Laser level included;
Light: Manual torch light, strobe light or a sound driven light show;
Protractor;
Magnifier.
Measure tools kit:
DB level: Measure the sound DB level and its spectrum;
Location (map);
Distance meter;
Speed gun: Measure speed of moving objects;
Stopwatch;
Thermometer;
Magnetic field level (metal detector);
Vibration level;
Luminosity (Lux) level;
Color sensor;
Heart rate monitor (cardiograph);
Speedometer;
Compass;
Battery tester;
Drag Racing.
Other handy utilities kit:
Unit and currency converter;
Calculator;
Code scanner: QR code and bar code;
NFC scanner;
Accelerometer;
Time zones;
Mirror;
Night vision;
Dog whistle;
Microphone;
Metronome;
Pitch tuner;
Counter;
Random generator;
Pedometer;
Body mass index;
Period tracker;
Translator;
Notepad.
You can create separate shortcuts for each tool from the kit.
Toolbox supports all device brands and several languages, but not all models have the appropriate sensors to support all tools and utilities, especially from the measure kit.
Based on 1 Votes and 0 User Reviews
Other Apps in This Category