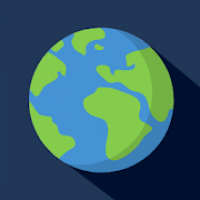 World Traveller - Your Travel Map
Rating: 3.50 (Votes: 2)
We all love traveling, but some of you do it more than others.
This app lets you keep track of the all countries and cities you have visited. This online scratch map is what you were looking for!
Discover a lot of curiosities about the places which you have traveled to! Which is the richest country that you have ever been to? What percentage of the world have you discovered? What is the biggest country that you have ever been to?
In addition to that, it provides custom stats according to the trips you have done, as well as information about all the countries of the whole world: population, currencies, visas, passport comparison, etc.
You can check what kind of visa you need for every country in the world depending on your passport. Check it before you plan any trip!
✈ Log in with Google or Facebook and keep your data FOREVER. You will have your own scratch map ready in every device you use!
If you are a true "world traveler", don't doubt and keep this app on your phone!
List of features:
★ Travel tracker: Have a track of the places you have been. Countries, cities, territories, towns...
★ Offline database of countries. Use the application without an internet connection. We know that you don't have roaming everywhere!
★ Customized stats. Discover the Northernmost, the richest, the biggest, the most populated country you have been. You have tens of interesting stats that you can check!
★ Other maps: Map of currencies, map of football stadiums, map of oceans and seas, and map of airports.
★ Set your cities as favorites or in your list of wishes.
★ Curious about any country? You can check plenty of interesting data like the area, GDP, population, flag, and more!
★ Log in and save your data for having it in every device that you own!
★ Available in 15 languages: English, Spanish, German, Italian, French, Romanian, Russian, Ukrainian, Hungarian, Turkish, Finnish, Portuguese, Polish, Belarusian, and Slovakian.
★ Currency converter automatically detects your currency and the country you are in.
★ Check the type of visa you have to every country.
★ Export and import your data, make your own backups just in case you are going to change your device.
Based on 2 Votes and 0 User Reviews
Other Apps in This Category